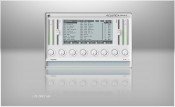 Another great free vst plugins download, Nebula 3
Nebula 3, free vst plugins download

Nebula3 Free is a fully functional, feature-limited version of Nebula3 Pro.
Nebula emulates the character and personality of analog hardware with exacting accuracy. Whether it is high end outboard equalizers, classic compressors, the latest reverbs, or vintage time-variant effects like phasers and flangers, Nebula has them all. With a large library of free included presets, you'll be adding the warmth of analog to your digital mixes in no time at all.
Nebula is a VST multieffect plug-in that is able to emulate and replicate several types of expensive audio equipment, eliminating the need for costly and bulky hardware. Nebula uses libraries which are created using a sophisticated "sampling approach" making it possible to "record" aspects of the sound of audio devices and play them back. Our sampling process results in highly realistic, complex emulations of many types of audio processing devices that can then be used to process any audio signal digitally, all within a VST plug-in that is compatible with all major DAWs and editing software.
Download Nebula 3:
http://acustica-audio.com (Nebula 3 Bundle Donwload)
Free libraries:
Nebula 3 free library, 1 Link
Nebula 3 free library, 2 Link
This post is also available in: Spanish
https://www.jonatanrosales.com/wp-content/uploads/2013/12/image-e1388151644758.jpg
107
175
Jonatan Rosales
https://jonatanrosales.com/wp-content/uploads/2017/12/jrlogo18.png
Jonatan Rosales
2013-12-27 13:31:03
2017-12-28 23:47:36
Another great free vst plugins download, Nebula 3