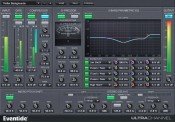 Free Plugin UltraChannel by Eventide until July 8
Free Plugin UltraChannel by Eventide until July 8
This is an Exceptional opportunity limited to the 8 of July, an amazing versatile plugin that you can use in a channel strip or side chain.
UltraChannel™ is Eventide's new 64-bit native channel strip plug-in for AU, VST, and AAX64 for Mac and PC featuring micro pitch functionality from our flagship H8000, stereo delays with variable feedback paths, plus two stages of compression, gating, and five bands of parametric EQ. UltraChannel is available as a free download through midnight July 8, 2014, after which it will cost $249.
UltraChannel features a pair of dynamics processors: the O-Pressor™, capable of extreme compression (this is the compressor section of the Omnipressor®) and a conventional compressor with de-essing and side-chain capability.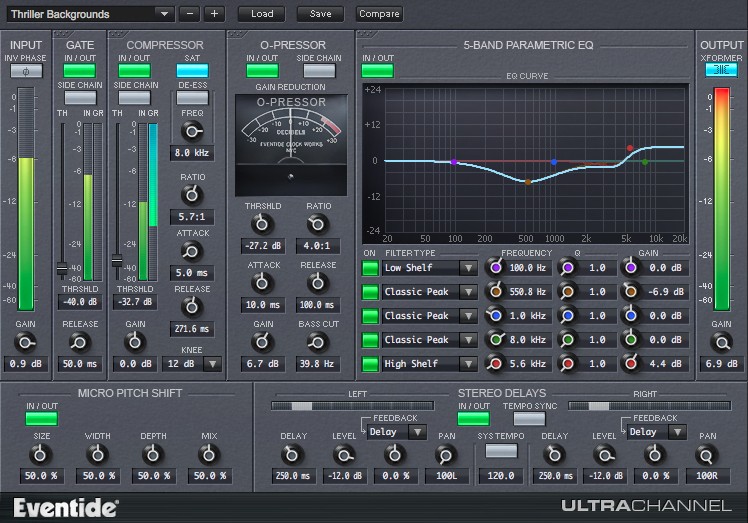 UltraChannel™ also offers Soft-Saturation, and Transformer emulation which recreates transformer core saturation. This feature adds harmonics to low frequency material while remaining relatively transparent to the rest of signal. While relatively subtle, in aggregate, Transformer can bring life to otherwise dull mixes and help glue disparate sound sources together.
FlexiPath™ routing allows drag and drop for reordering the signal path of the top level components (O-Pressor, compressor/de-esser, EQ, Gate).
UltraChannel includes a variety of factory presets tailored to signal sources such as guitar, bass, kick drum, snare, piano, strings, synths and vocals. A number of the presets were created by Eventide artists.
How to get it
UltraChannel does not require you to own or use an iLok dongle, but the iLok License Manager and an ilok.com account are required to use the plugin. An ilok.com account can be created either at ilok.com or within the iLok License Manager application. Please download and install this software if it is not already installed on your computer. This application allows users to authorize up to two computers or an iLok dongle to use UltraChannel.
It will be available as a free download until July 8; then cost 249 USD. To be able to get it free, download the right file (if you are on mac or pc) fill in the form and Follow the instructions you will find at the bottom of this page, using the promo code 07D96411.
Sources:
Hispasonic.com article (spanish site)
This post is also available in: Spanish
https://www.jonatanrosales.com/wp-content/uploads/2014/06/eventide_ultrachannel1-e1403193863804.jpg
122
175
Jonatan Rosales
https://jonatanrosales.com/wp-content/uploads/2017/12/jrlogo18.png
Jonatan Rosales
2014-06-19 16:02:54
2017-12-28 23:37:35
Free Plugin UltraChannel by Eventide until July 8