Stereo Tool v3 Freeware Plugin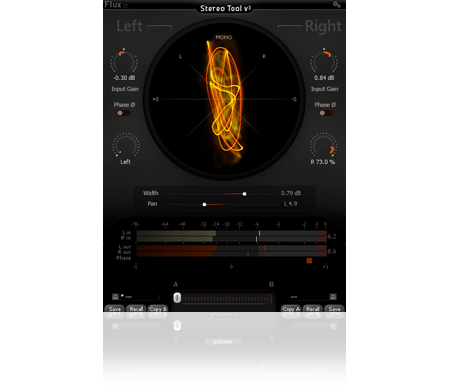 Stereo Tool v3 from fluxhome.com , Its a great addition to any home studio. its definitely a "must have".
Detail Information
Stereo Tool v3 freeware plugin features ultra precise control of input gain and individual pan for left and right channels. A phase inverter is available on each channel. Global stereo pan and stereo width settings are also implemented to complete the management of the stereo signal.
Stereo Tool v3 also offers accurate visual feedback reflecting the signal content. A vector scope display, PPM meters for both inputs and outputs, and a phase correlation meter permanently monitor the signal.
Inserting our Stereo Tool v3 after a BitterSweet v3, will open your mind to new ways of controlling the stereo stage.
Like all Flux:: plug-ins it features 64 bit internal floating point processing, up to 8 FS (384 KHz).
Stereo Tool v3 is available in native versions, AU, AAX and VST.
No dongle or registration required.
Features
Signal Processing Features
-Output Gain, controlling the gain at the end of the processing.
-Bypass routes the incoming signal direct to the output for a true smooth transition between processed and clean signal.
Three different transient processing modes:
-Main, using a regular stereo signal scheme for the processing.
-Center, processing the Mid channel only, very efficient for snare and kick drums.
-Stereo, processing the Side channel only, very efficient for panned rhythmic/transient
Processing Specifications
Stereo Tool v3, as all Flux:: plug-ins, provide
-Up to 8 channels Input/Output.* 64-bits internal floating point processing.
-Sampling rate up to 384 kHz DXD (Pyramix & Ovation MassCore/Native)**
-Sampling rate up to 384 kHz for native (AU/VST(AAX).
*Not when using Center and Stereo mode, as they are M/S modes requiring stereo operation.
Compatibility
All major native formats are supported
-Windows – Vista, 7 and 8 all in both 32 and 64 bits*. (XP v.2.4 / 32 bit only)
-VST (2.4)
-AAX Native
-Mac OS X (Intel) – 10.7, 10.8 and 10.9 in both 32 and 64 bits*.
-VST (2.4)
-AU
-AAX Native
Due to AVID ProTools changing to AAX, from Version 3 (v3) RTAS for AVID ProTools is no longer supported.
https://www.jonatanrosales.com/wp-content/uploads/2014/11/productpage_teaser_45-45-e1417376174545.png
216
175
Jonatan Rosales
https://jonatanrosales.com/wp-content/uploads/2017/12/jrlogo18.png
Jonatan Rosales
2014-11-30 21:33:15
2017-12-28 23:16:29
Stereo Tool v3 Freeware Plugin